| | |
| --- | --- |
| FOR IMMEDIATE RELEASE | CONTACT: Georgea Polizos |
| September 25, 2014—No. 52 | (202) 785-8430 |
AHI Mourns Passing of Champion of Hellenism Ted G. Spyropoulos
WASHINGTON, DC —The American Hellenic Institute (AHI) mourns the passing of Mr. Ted G. Spyropoulos on September 25, 2014, in Chicago.
"Ted Spyropoulos was an extraordinary Hellene," AHI Founder Gene Rossides said. "Ted's passing leaves a tremendous void in the Diaspora. I admired his passion for Hellenism and his unselfish work on behalf of Hellenic causes. Our deepest sympathies, thoughts and prayers are with his family."
"Ted Spyropoulos will always be remembered fondly by the American Hellenic Institute and its members for his unwavering devotion not just to AHI, but to any and all Hellenic organizations that shared his passion for Hellenism," AHI President Nick Larigakis said. "Ted thrived on championing Hellenic issues, promoting the values of education, and preserving the Greek language, and we owe it to him to keep his passion alive. He left an indelible mark on the community. May his memory be eternal."
Spyropoulos currently served as Vice Chairman of the Board of the American Hellenic Institute Foundation (AHIF) and was a major benefactor of many AHI events, conferences, and forums.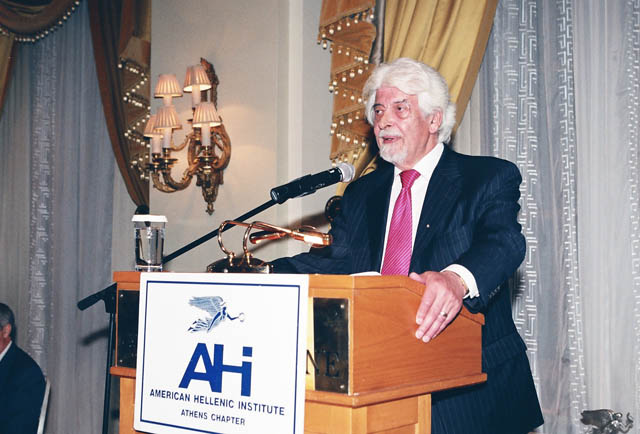 Champion of Hellenism Ted G. Spyropoulos.
The American Hellenic Institute is a non-profit Greek American think-tank and public policy center that works to strengthen relations between the United States and Greece and Cyprus, and within the Greek American community.
###
For additional information, please contact Georgea Polizos at (202) 785-8430 or at pr@ahiworld.org. For general information about the activities of AHI, please see our website at http://www.ahiworld.org and follow us on Twitter @TheAHIinDC.