WASHINGTON, DC — The Hellenic Parliament's Chairman of National Defense and Foreign Affairs Committee, Mr. Konstantinos Vrettos, visited American Hellenic Institute's (AHI's) Hellenic House on Wednesday, March 16, 2011.
"We appreciate Chairman Vrettos taking time from his busy itinerary to visit with us," said AHI President Nick Larigakis, who led the discussion.  "We had a fruitful discussion of issues of mutual importance, and we look forward to working together to strengthen relations between the United States and Greece."
Ambassador of Greece to the United States Vassilis Kaskarelis and Aristidis Strimbakos, first secretary (political), Embassy of Greece, accompanied Chairman Vrettos.
The AHI Board of Directors hosted an intimate dinner for Chairman Vrettos and his wife on Tuesday evening.
The American Hellenic Institute is a non-profit Greek American public policy center that works to strengthen relations between the United States and Greece and Cyprus, and within the Greek American community.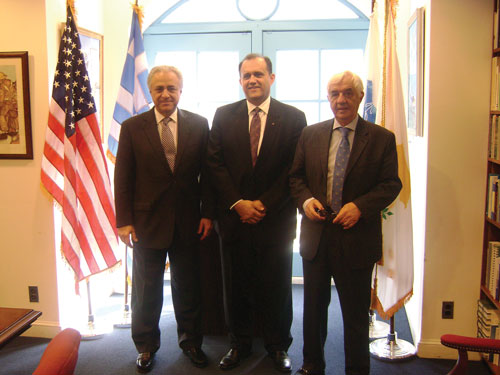 (L-R) Ambassador of Greece, Vassilis Kaskarelis, Nick Larigakis and Konstantinos Vrettos.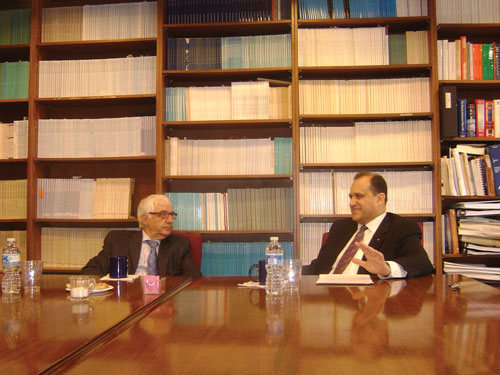 (L-R) Konstantinos Vrettos and Nick Larigakis.

###
For additional information, please contact Demetra Atsaloglou at (202) 785-8430 or at pr@ahiworld.org. For general information about the activities of AHI, please see our website at http://www.ahiworld.org.