WASHINGTON, DC — Students from American University's International Relations and Conflict Resolution Program visited the American Hellenic Institute's (AHI) Hellenic House on Wed., Feb. 23, 2011.  The 27 students in the program hail from across the United States and six other countries.
American University's International Relations and Conflict Resolution Program is directed by Assistant Professor Eleftherios A. Michael, Ph.D.  In April, he will lead the students on a delegation to Greece, Cyprus and Turkey where they will study the role of Greece and Cyprus in the quest for lasting peace and stability in the region, Greek-Turkish relations, and the consequences of the invasion and occupation of the Republic of Cyprus by Turkey.
"We congratulate Dr. Michael for the outstanding job he has done in leading this important program at American University," said President Nick Larigakis.  "We enjoyed hosting the students and learning about their perspectives on conflict resolution in the eastern Mediterranean.  We had a wonderful exchange of ideas, and we wish them a fruitful visit to the region next month."
AHI Board Secretary Nick Karambelas also participated.  President Larigakis led the discussion.
The American Hellenic Institute is a non-profit Greek American public policy center that works to strengthen relations between the United States and Greece and Cyprus, and within the Greek American community.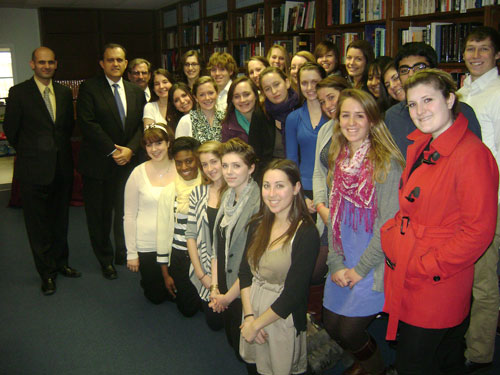 Student briefing.

The American Hellenic Institute Foundation (AHIF) is a 501 (c) 3 non-profit, tax-exempt educational and research organization, and the first "think tank" devoted to Greek American issues.
###
For additional information, please contact Demetra Atsaloglou at (202) 785-8430 or at pr@ahiworld.org. For general information about the activities of AHI, please see our website at http://www.ahiworld.org.