WASHINGTON, DC — The Republic of Cyprus's Permanent Secretary of the Ministry of Foreign Affairs, Nicholas Emiliou, visited the American Hellenic Institute's (AHI) Hellenic House on Mon., Feb. 14, 2011.
His Excellency Pavlos Anastasiades, ambassador of the Republic of Cyprus to the U.S.; Mr. Dimitris Hatziargyrou, director, Permanent Secretary's Office; First Secretary of the Embassy of Cyprus Solon Savva, and Panicos Papanicolaou, president, Cyprus Federation of America accompanied Ambassador Emiliou.
"We sincerely thank Ambassador Emiliou for taking the time out of his busy itinerary to meet with AHI," said President/COO Nick Larigakis.  "We had a thorough discussion about the progress of the current negotiation process for a Cyprus settlement, including the recent UN efforts to intensify the process."
In addition, the permanent secretary expressed his gratitude on behalf of the Republic of Cyprus to AHI for its contributions to keep the Cyprus problem on the policy agenda and in the public forum.  This included, among other things, AHI initiatives such as the "Town Hall Screenings" of the documentary "Cyprus Still Divided: A U.S. Foreign Policy Failure" that has aired on public television.
AHI Founder and Board of Director Gene Rossides and Board Member Kostas Alexakis also participated.  President/COO Larigakis led the discussion.
The American Hellenic Institute is a non-profit Greek American public policy center that works to strengthen relations between the United States and Greece and Cyprus, and within the Greek American community.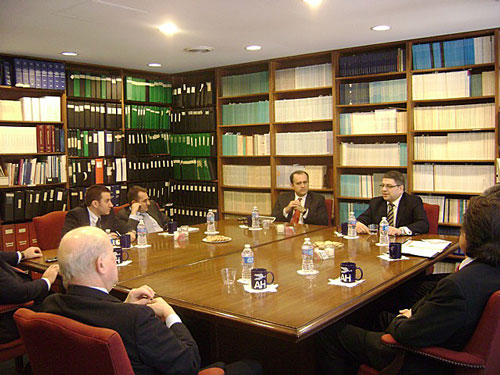 Ambassador Emiliou meets with AHI at Hellenic House.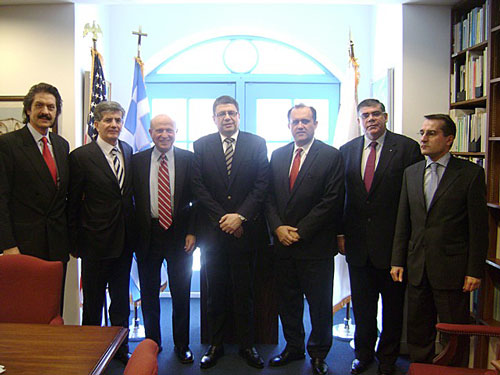 (L-R): AHI Board Member Kostas Alexakis, Ambassador Pavlos Anastasiades, AHI Founder Gene Rossides, Ambassador Nicholas Emiliou, AHI President/COO Nick Larigakis, Cyprus Federation of America President Panicos Papanicolaou, and Director of the Permanent Secretary's Office Dimitris Hatziargyrou.
 
The American Hellenic Institute Foundation (AHIF) is a 501 (c) 3 non-profit, tax-exempt educational and research organization, and the first "think tank" devoted to Greek American issues.
###
For additional information, please contact Demetra Atsaloglou at (202) 785-8430 or at pr@ahiworld.org. For general information about the activities of AHI, please see our website at http://www.ahiworld.org.