WASHINGTON, DC — The American Hellenic Institute (AHI) hosted a "Town Hall Screening" of the one-hour documentary "Cyprus Still Divided: A U.S. Foreign Policy Failure" at Holy Trinity Greek Orthodox Church, Clearwater, Fla., on February 7, 2011. The screening was held in cooperation with Holy Trinity Church and the Pancyprian Association of Florida, and it was organized with the help of Archon Regional Commander and AHI member Theodore P. Vlahos, M.D. More than 150 persons attended.
A panel discussion featuring U.S. Rep. Gus M. Bilirakis (R-FL), who co-chairs the Congressional Caucus on Hellenic Issues, Dr. Van Coufoudakis, rector emeritus, University of Nicosia, and dean emeritus, School of Arts and Sciences, Indiana University-Purdue University at Fort Wayne; and AHI President/COO Nick Larigakis followed the documentary's screening. Father James Rousakis provided opening remarks and welcomed the audience.
"We thank the greater Clearwater community for supporting this event, and we deeply appreciate the organizational efforts of local AHI Member Dr. Ted Vlahos," said Larigakis. "The documentary sheds light and scrutinizes U.S. foreign policy toward Cyprus surrounding the 1974 Turkish invasion. Our goal is to create awareness of the documentary's significance and encourage communities to urge their PBS affiliates to air the program."
The documentary aired on Detroit Public Television on September 13, 2010. The documentary was made possible by the support of the American Hellenic Institute Foundation.
The next "Town Hall Screening" will be held at New York University, February 25, 2011 and will feature former U.S. Rep. John Brademas and Broadcast Journalist John Metaxas, who will moderate the discussion. Please click here for details.
The American Hellenic Institute is a non-profit Greek American public policy center that works to strengthen relations between the United States and Greece and Cyprus, and within the Greek American community.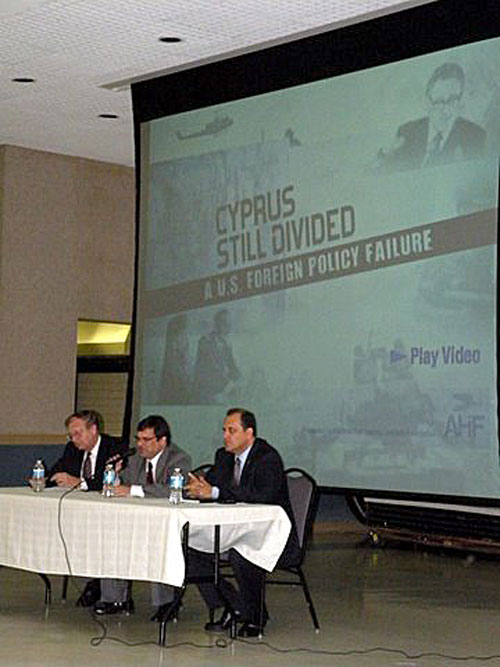 Prof. Van Coufoudakis, Congressman Gus Bilirakis and Nick Larigakis.
LEFT: Dr. Theodore P. Vlahos, AHI member and Archon Regional Commander with Congressman Gus Bilirakis; RIGHT: Dr. Theodore P. Vlahos.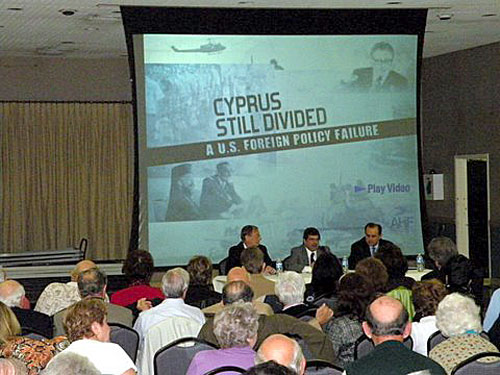 Overview of panel discussion.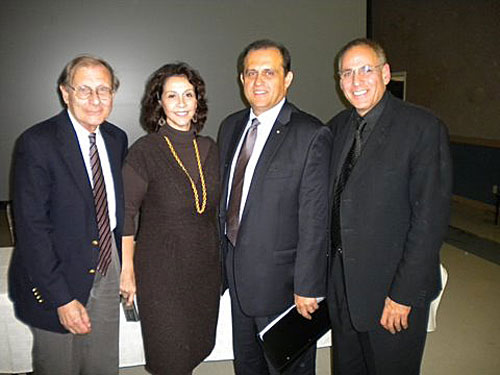 (L-R) Prof. Van Coufoudakis, Angela Georgiadis, President Pan Cyprian Association of Clearwater, Nick Larigakis and Mr. Varnavas Zagaris.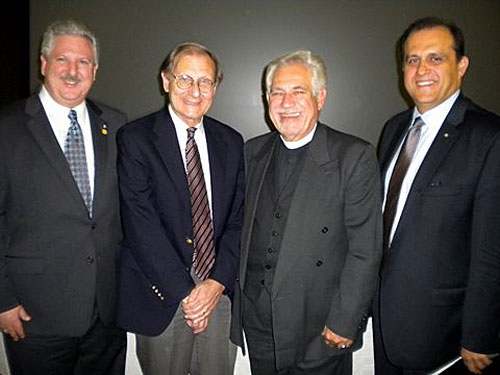 (L-R) Dr. Theodore Vlahos, Prof. Van Coufoudakis, Rev. Fr. James Rousakis and Nick Larigakis.

The American Hellenic Institute Foundation (AHIF) is a 501 (c) 3 non-profit, tax-exempt educational and research organization, and the first "think tank" devoted to Greek American issues.
###
For additional information, please contact Demetra Atsaloglou at (202) 785-8430 or at pr@ahiworld.org. For general information about the activities of AHI, please see our website at http://www.ahiworld.org.