| | |
| --- | --- |
| FOR IMMEDIATE RELEASE | CONTACT: Nick Larigakis |
| January 10, 2011—No. 3 | (202) 785-8430 |
WASHINGTON, DC —The American Hellenic Institute Foundation (AHIF), the first think tank devoted to Greek American issues, is pleased to announce the selection of Dr. Spiro Spireas as its president, effective January 1, 2011. Dr. Spireas succeeds AHI Foundation President and AHI Founder Gene Rossides, who will remain on the Foundation's Board of Directors.
"We are very happy that Dr. Spireas has agreed to serve as president of the AHI Foundation," said AHI President/COO Nick Larigakis. "He is a visionary leader who will bring a wealth of enthusiasm and talent to the Foundation. Dr. Spireas will be a significant asset to the foundation and will help it meet its mission to the benefit of the Greek American community."
"The AHI Foundation Board of Directors is deeply grateful to AHI Founder Gene Rossides for his leadership of the Foundation," stated Larigakis. "Under his direction, the Foundation launched a series of policy conferences, a study-abroad program, started a book publishing program, held a historic conference on Cyprus's fiftieth anniversary, started the AHIF Online Policy Journal, and initiated the endowment fund."
AHI Founder Gene Rossides said, "I enjoyed the opportunity to lead the AHI Foundation during a time of growth in new programs. I have tremendous confidence in the abilities of Dr. Spireas to lead the foundation in the years to come, and I wish him the best."
Dr. Spireas, New Hope, Pa., is the owner, founder, chairman and chief executive officer of Sigmapharm Laboratories, an emerging specialty pharmaceutical company operating out of Bensalem, Pennsylvania, and engaging in the development, manufacture and marketing of unique generic and branded pharmaceutical products. He is the inventor and author of more than 80 international and domestic patents and 200 scientific papers, books, and other publications in the fields of industrial pharmacy, pharmaceutical technology, biopharmaceutics, pharmacokinetics and analytical chemistry.
Dr. Spireas holds a Master's and a Doctorate Degree in Pharmaceutics and Industrial Pharmacy from St. John's University, Jamaica, N.Y., and a B.S. Degree in Pharmacy from the Hellenic National University of Athens, Greece.
In addition, Dr. Spireas is very active in the Greek Orthodox Church. He currently serves as the Parish Council President of St. George Greek Orthodox Church, Trenton, N.J., and he is a member of the Metropolitan Council of the Greek Orthodox Metropolis of New Jersey appointed by His Eminence Metropolitan Evangelos. On October 30, 2010, Dr. Spireas was installed as an Archon of the Ecumenical Patriarchate of the Order of St. Andrew the Apostle by His All Holiness Ecumenical Patriarch Bartholomew.
"It is a great honor and privilege to be named AHI Foundation president, as well as a huge challenge, to be following in the footsteps of AHI Founder Gene Rossides," said Dr. Spireas. "I look forward to working with AHI President and COO Nick Larigakis, the AHI Foundation Board of Directors, and staff to augment the Foundation's reach and to make a difference in the Greek American community."
Please click here for a bio of Dr. Spiro Spireas.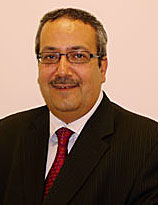 Dr. Spiro Spireas.
###
The American Hellenic Institute Foundation (AHIF) is a 501 (c) 3 non-profit, tax-exempt educational and research organization, and the first "think tank" devoted to Greek American issues.
For additional information, please contact Demetra Atsaloglou at (202) 785-8430 or at pr@ahiworld.org. For general information about the activities of AHI, please see our website at http://www.ahiworld.org.