| | |
| --- | --- |
| FOR IMMEDIATE RELEASE | CONTACT: Nick Larigakis |
| January 7, 2011—No. 2 | (202) 785-8430 |
WASHINGTON, DC —American Hellenic Institute (AHI) President/COO Nick Larigakis visited Capitol Hill on Wednesday, January 5, 2011, to congratulate and welcome members of Congress upon their return to Washington to commence the 112th Congress. Among the members who took the time to meet with Larigakis was U.S. Rep. Ileana Ros-Lehtinen (R-FL), chairman, House Committee on Foreign Affairs.
"On behalf of AHI, I congratulated Congresswoman Ros-Lehtinen on her re-election and her rise to become chairman of the House Committee on Foreign Affairs," said Larigakis. "She has been a stalwart champion of Greek American issues. We look forward to working with her and her fine staff in the 112th Congress."
In the past, Congresswoman Ros-Lehtinen has co-sponsored legislation to support the Greek American community's positions on Cyprus, FYROM, and the Ecumenical Patriarchate. Annually, she sponsors House resolutions to commemorate the anniversary of Greek Independence. Recently, she has been a vocal critic of Turkey's foreign policy direction, calling for Turkish troop withdraw from Cyprus and for Halki Theological Seminary to be re-opened.
In addition, Larigakis had a friendly exchange with U.S. Rep. Christopher Smith (R-NJ), who is a fellow alumnus of Trenton State (now College of New Jersey). Congressman Smith is a longstanding member of the House Committee on Foreign Affairs, a former chairman of the Commission on Security & Cooperation in Europe (U.S. Helsinki Commission), a position he is likely to re-attain in the new Congress; and an executive member of the Tom Lantos Human Rights Commission.
The American Hellenic Institute is a non-profit Greek American public policy center that works to strengthen relations between the United States and Greece and Cyprus, and within the Greek American community.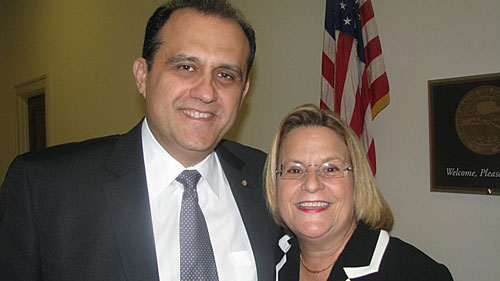 AHI President/COO Nick Larigakis with Congresswoman Ileana Ros-Lehtinen, chairman, House Committee on Foreign Affairs.
###
For additional information, please contact Demetra Atsaloglou at (202) 785-8430 or at pr@ahiworld.org. For general information about the activities of AHI, please see our website at http://www.ahiworld.org.