AHI Hosts Sixth Annual Golf Classic
WASHINGTON, DC—On October 14, 2009 the American Hellenic Institute (AHI) hosted its Sixth Annual Golf Classic at the Belle Haven Country Club in Alexandria, Virginia. The event was a great success and AHI is thankful to all the sponsors and over 50 golfers who participated.
The winning team in the Captain's Choice Format competition consisted of Diane Herndon, Janice Calomiris, Mimi Hoffman, and Kay Tyler. Finishing in second place was the team of Michael Abbenante, Paul Capadanno, Nicholas Christako, and Nick Demas. Third place went to the team of Tom Pellicane, Nathan Riedel, James McPhillips, and Ralph Scherer. The longest drive went to Janice Calomiris and the closest to the pin went to Diane Herndon. All the members of these winning teams were awarded trophies for their outstanding effort.
AHI would like to thank all the generous sponsors of this year's Golf Classic. They are: Hole Sponsors: Capital Hilton, Chimicles & Tikellis LLP, Circle Companies, Courembis Commercial Real Estate Services, LaMer Beachfront Inn, Market Development Group, McLean Hilton, TGS Petroleum and Gene Rossides. Golf Cart Sponsors: Axela Government Relations LLC, Independent Insurance Agents & Brokers of America, Public Sector Solutions, The Hatcher Group, and Urban Analytics, Inc. Registration Sponsors: Michael Abbenante, Financial Advisor, Morgan Stanley Smith Barney LLC, and Tyler Business Services, Inc. Welcome Gift Bag Sponsors: High Tower Advisors, NICO Properties Group, schererMedia, and Stephen G. Yeonas Company.
"We are very pleased that our Annual Golf Classic continuous to grow each year.  We hope to be able to continue to build on this success and to improve it each year. To that effect, this year we were able to upgrade the venue for this event by having been able to secure the exclusive Belle Haven Country Club in Alexandria, Virginia. Also, we are especially thankful to all of our generous sponsors and golfers," said AHI Executive Director Nick Larigakis.

Group Photo.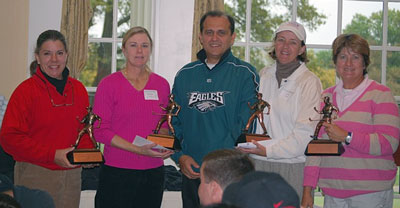 AHI Executive Director Nick Larigakis with the first place winners of the 6th Annual Golf Classic. The winning team consisted of Janice Calomaris, Diane Herndon, Kay Tyler, and Mimi Hoffman.
###
For additional information, please contact C. Franciscos Economides at (202) 785-8430 or at pr@ahiworld.org. For general information about the activities of AHI, please see our Web site at http://www.ahiworld.org.