AHI Co-Hosts Farewell Dinner in Honor of Greece's Ambassador to the U.S.
Works in Cooperation with AHEPA, SAE-USA, HANC to bid adieu to Greece's leading diplomat in U.S.
WASHINGTON, DC—The American Hellenic Institute (AHI) a leading Hellenic-American policy center and think-tank, co-hosted a farewell dinner in honor of His Excellency Alexandros Mallias, ambassador of the Hellenic Republic to the United States, and Mrs. Francoise Mallias, on Friday, May 15, 2009, in Washington.
AHI joined with the American Hellenic Educational Progressive Association (AHEPA), Council of Hellenes Abroad (SAE)-USA, and the Hellenic American National Council (HANC) to bid farewell to Ambassador Mallias, who served nearly four years in Washington.
The ambassador was visibly moved during his remarks before an audience of more than 100 persons that included community leaders from across the United States, embassy colleagues, fellow ambassadors, and representatives from the Department of State.  He took a moment to remember his parents and recounted how they influenced his life, acknowledged the work of his fine staff and the Greek press corps, and expressed how honored and humbled he was to have been named Greece's top envoy to the United States.
Moreover, Ambassador Mallias commended the strength of Greek-Americans who, through various organizations, have a strong presence in Washington and throughout the United States. His comments at the dinner reflected those told recently to Greek News: "Greece's greatest asset in the United States is the Hellenic American community…It is a fact that Greek-Americans, both as individuals and through associations, are passionate about promoting Greek-U.S. relations and the issues of Hellenism and Orthodoxy."
The ambassador also gave tremendous credit to his wife, Francoise, who has been extremely supportive of his career over the many years.
A presentation was made to Ambassador Mallias by AHI Founder Gene Rossides, President Aleco Haralambides, and Executive Director Nick Larigakis who awarded him the AHI Hellenic Heritage National Public Service Award. The award read, "To Ambassador Alexandros Mallias, distinguished public servant and diplomat who through his extraordinary efforts as Ambassador of Greece to the United States has fostered a stronger friendship and understanding between the people of Greece and the people of America."
Awards were also presented to Ambassador Mallias by AHEPA Supreme Vice-President Nicholas A. Karacostas, who represented Supreme President Ike Gulas; SAE-USA President Theodore Spyropoulos, and HANC President Emmanuel Velivasakis.
The ambassador quickly understood how the U.S. political system operates," said Rossides. "And he became an activist with the Congress, with the Executive Branch, with the Greek-American organizations, and with the grassroots community throughout the country."
In a letter read by AHEPA Executive Director Basil Mossaidis, Gulas praised Ambassador Mallias for his community engagement and stressed the importance of working together on several issues affecting U.S.-Greece relations, primarily Greece's inclusion into the United States' Visa Waiver Program.
"Together, we faced and addressed these issues head-on, and we made significant progress," wrote Gulas. "However…your service here will always be remembered for your demonstrated commitment to outreach to the entire American Hellenic community.  Indeed the emphasis you placed on your outreach initiative truly made your stay in our country unique and for that we are all grateful."
"I'm pleased we were able to stage this event with the cooperation of several leading Hellenic American organizations," added Larigakis, who shared equal duty as Master of Ceremonies with Mossaidis. "It is a reflection of the ambassador's efforts during his tenure to outreach and conduct people-to-people diplomacy throughout the United States."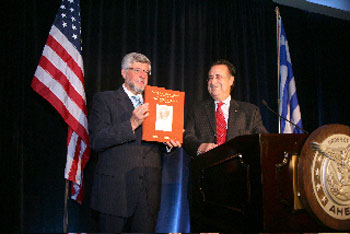 Amb. Mallias receives a gift from Emmanuel Velivasakis, President of the Hellenic American National Council.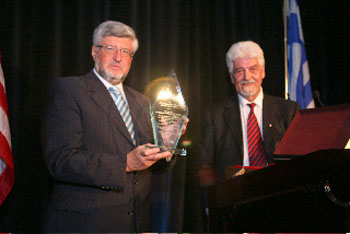 Amb. Mallias (left) receives a gift from Ted Spyropoulos, USA Regional Coordinator, World Council of Hellenes Abroad (SAE).
From left to right: AHI President Aleco Haralambides, Amb. Mallias, AHI Founder Gene Rossides, Mrs. Mallias, and AHI Executive Director Nick Larigakis present Ambassador and Mrs. Mallias with Awards for their service.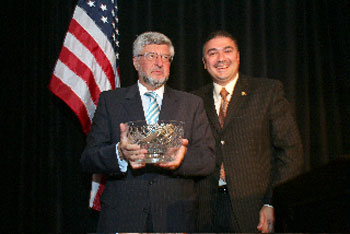 AHEPA Supreme Vice President Nicholas A. Karacostas presents a gift to Amb. Mallias.
###
For additional information, please contact C. Franciscos Economides at (202) 785-8430 or at pr@ahiworld.org. For general information about the activities of AHI, please see our Web site at http://www.ahiworld.org.