AHI Hosts Annual Congressional Salute to Greek Independence Day
WASHINGTON, DC—On April 1, 2009, the American Hellenic Institute hosted its annual "Congressional Salute to Greek Independence Day" at the Cannon Building on Capitol Hill to celebrate the 188th Anniversary of Greek Independence and the common democratic ideals held by Greece and the United States. The event was held in cooperation with the Congressional Hellenic Caucus's co-sponsors, Representative Gus Bilirakis (R-FL) and Representative Carolyn Maloney (D-NY).
AHI Executive Director Nick Larigakis, who served as Master of Ceremonies, welcomed the guests and thanked Rep. Bilirakis and Rep. Maloney for their support in organizing the reception, and for their ongoing efforts in promoting Hellenic American issues in the U.S. Congress.
Special Guest speakers were Alexandros P. Mallias, Ambassador of Greece to the United States and Andreas S. Kakouris, Ambassador of the Republic of Cyprus to the United States.
Members of Congress attending the reception and addressing the audience included (in order of appearance): Rep. Niki Tsongas (D-MA), Rep. Ileana Ros-Lehtinen (R-FL), Rep. Michael E. McMahon (D-NY), Rep. Mario Diaz-Balart (R-FL), Rep. Gus Bilirakis (R-FL), Rep. Steven Rothman (D-NJ), Rep. Ron Klein (D-FL), Rep. Dina Titus (D-NV), Rep. Ed Royce (R-CA), Rep. Ted Poe (R-TX), Rep. Steve Driehaus (D-OH), Rep. Carolyn Maloney (D-NY), Rep. Donald Payne (D-NJ), and Rep. Zack Space (D-OH).
Each of the speakers emphasized their admiration for the Hellenic culture and for the valiant and inspiring struggle for Greek Independence, achieved nearly 200 years ago. They also expressed their wish for a proper settlement of the Cyprus issue, and stressed their support for Greece over the name issue with FYROM.
Below are excerpts of remarks made from members of Congress:
Rep. Niki Tsongas (D-MA)—"We have to work together and help around the world. The Greeks really were the precursor with their values which had established democracies throughout the world."

Rep. Ileana Ros-Lehtinen (R-FL)—"America owes a great deal to the political philosophy that was first conceptualized in ancient Athens in 500 B.C. Our founding fathers in their wisdom studied Greek political philosophy and took those principals to heart in creating our Constitution. With regard to the visa waiver program, we know that Greece has met all the requirements to qualify for this program and there should be no further delay. We must ensure that Greece is fully admitted into the visa waiver program. We have recently written a letter to the new administration urging them to move forward admitting Greece into this much needed program. I have joined many in supporting House Resolution 236 which highlights the serious issues facing the Patriarchate do to the restrictive policies of the Turkish government and calls upon that government to change those policies. And I joined many of my colleagues this month in sending a letter addressed to the President [U.S.] urging him to meet with Patriarch Bartholomew in Istanbul in his upcoming visit to Turkey. Also, there is a critical need to find a satisfactory end and agreement on the official name of Greece's neighbor FYROM. The government of FYROM needs to find an agreeable official name that addresses the concerns of Greece. And finally, the reunification of Cyprus. This has been important to me since the first days I entered congress."

Rep. Michael E. McMahon (D-NY)—"Hello and yasou everybody. I am the newest member of the Hellenic Caucus and I am very proud and privileged to be a part of it. America is not just a place, but an idea. And it is true that these ideas were forged in Greece centuries ago. The ideas of freedom, democracy, liberty, and individual rights which parallel in our society and we owe a debt of gratitude for these ideas."
Rep. Mario Diaz-Balart (R-FL)—"I have a confession to make. I do not represent a largely Greek populated district. But I do share the principals and the values of the Hellenic population of the United States. And I do share the principals and values of the people of Greece and of the people of Cyprus. And some things are not that complicated. It is time for Turkey to recognize that it is time for them to leave Cyprus. That Cyprus is for the Cypriots and that they [Turkey] have divided that country. Cyprus most be reunited and the way to do that is through Turkey."

Rep. Gus Bilirakis (R-FL)—"We have got to get these issues resolved. I will not rest until our issues are resolved. The issue with FYROM should have been resolved a long time ago. In Cyprus the troops need to be withdrawn and in addition Mr. Talat and President Christofias may make some progress if Turkey did not interfere. On religious issues, our Patriarch, the Halki School being closed, these are no brainers. We survived 400 years under the Ottoman Empire. We kept our customs, our traditions, and our religion. We can win on these issues, we are Greeks! Sas euxaristo para polu."

Rep. Steven Rothman (D-NJ)—"This is my thirteenth year in Congress and I have been a friend and member of the Hellenic Caucus each and every one of those years. I believe in the justice of your issues. Whether it is the visa waiver program that Greece should have, the foreign aid we give to Cyprus, acknowledging Greece's role in our war against Al Qaeda and terrorists, getting rid of the occupiers of the northern part of Cyprus, and resolving the name dispute with FYROM. You know you have a friend and I am proud to be your friend and to always be called upon. Thank you."

Rep. Ron Klein (D-FL)—"One of the most important reasons we share the support on these issues is because we share common traditions and common values as Americans, as Greeks, and those from various ethnic backgrounds. I recently had the chance to travel to Cyprus. I visited also the north [Turkish occupied northern Cyprus]. I met with Church leaders and it is clear that properties have been taken, rights have been taken and this needs to be resolved. You can count on me along with the many others to stand ready, stand with you, and to make sure justice is done."
Rep. Dina Titus (D-NV)—"I am delighted to be a part of the Hellenic Caucus and I will vote for the issues that you have heard here and are important to our community. As we move forward I am committed to supporting those issues and to always be there. Please always call on me, my door is always open."
Rep. Ed Royce (R-CA)—"Why do we think Greek culture will be preserved? Because for 400 years under the Ottomans the Greeks were able to hold on to their culture, their religion, their ideals, despite twenty generations of oppression. And that had an incredible impact on this country [U.S.], at the birth of our creation and democracy. I believe Greece was the foundation for the western civilization. I am headed to Cyprus in a few weeks and many of you know how I feel about this. There is no reason for Turkish troops to be on Cyprus."
Rep. Ted Poe (R-TX)—"The greatest thing I believe that Greece has given the world is the worth of the individual, that the individual is important. In fact, the individual is the most important in the state. This country relies on that philosophy.  The world owes a lot to Greece, Greek independence, and the loyalty the Greek nation has had since its independence to the U.S. Greece has always been a faithful ally."
Rep. Steve Driehaus (D-OH)—"I wanted to say congratulations on the anniversary of Greek Independence. We are doing everything we can to support Greece and all of the tremendous efforts of the Greek American community."

Rep. Carolyn Maloney (D-NY)—"Today we celebrate Greek independence. We also celebrate the many unique and wonderful contributions of the Greek American community to the U.S. We celebrate the intelligence, the hard work, the culture, the dance, the freedom and democracy we have received from the Greeks and we are deeply grateful. The Hellenic Caucus is working and will continue to work on several important issues in this Congress. I hope permanent solutions can be found for ending the division of Cyprus and finding a mutual agreeable name for the Former Yugoslav Republic of Macedonia, FYROM. We know that Macedonia is Greek! Also, I am working and encourage the inclusion of Greece in the visa waiver program. I have recently re-introduced legislation which urges Turkey to respect the rights and religious freedom of the Ecumenical Patriarch. It is time for Turkey to move in the direction of freedom and democracy by recognizing the international status of the Patriarch and re-opening the Halki Theological School."


A record number of over 35 Members of Congress had RSVP'd for the event. Unfortunately, do to votes on the House floor running late some were only able to attend for a brief time. Of those were Rep. Donald Payne (D-NJ) and Rep. Zack Space (D-OH).
During the evening, there was a presentation of traditional Greek dances performed by the Return to Origins Greek Folk Dance Troupe (photo below) under the direction of Rena and Elena Papapostolou as well as the singing of the National Anthems of the United States and Greece by the Greek School of Saint Katherine Greek Orthodox Church in Falls Church, Virginia.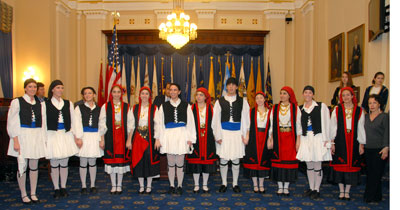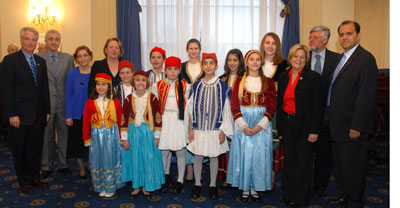 From left to right: Rep. Michal E. McMahon (D-NY), Amb. Kakouris, Sofia Tsangali, Principal of St. Katherine Sunday School, Rep. Niki Tsongas (D-MA), Students of Greek School of St. Katherine Greek Orthodox Church, Rep. Ileana Ros-Lehtinen (R-FL), Amb. Mallias, and Nick Larigakis.
###
For additional information, please contact C. Franciscos Economides at (202) 785-8430 or at pr@ahiworld.org. For general information about the activities of AHI, please see our website at http://www.ahiworld.org.