| | |
| --- | --- |
| FOR IMMEDIATE RELEASE | CONTACT: GEORGIA ECONOMOU |
| October 5, 2005—No. 87 | (202) 785-8430 |
AHI Hosts Second Annual Golf Tournament
WASHINGTON, DC—On September 17, 2005, the American Hellenic Institute hosted its Second Annual AHI Benefit Golf Tournament at the Penderbrook Golf Club in Fairfax, Virginia. The event was a tremendous success, and AHI is grateful to all of the sponsors and golfers who participated.
The winning team in the scramble format competition consisted of Michael Abbenante, John Garrity, Kay Tyler and Jay Hoffman. Finishing in second place was the team of Peter Petropoulos, John Johnson and Mike Papadopoulos. Third place went to the team of George Sifakis, Alan Fabian, Phil Musser and Stephen Scontras. All of the members of these winning teams were awarded trophies for their outstanding efforts.
Lending his support by coming out and participating in this year's golf tournament was Larry Michael, Voice of the Washington Redskins.
AHI would like to thank the generous sponsorship provided by Axela Government Relations LLC, Bouras Industries, Inc., Bullfeather's Restaurant, Capital Hilton, Circle Companies, Commerce Bank, Euclid Financial Group, Inc., Euclid Mortgage Services, LLC, Gene Rossides, Greater New Bedford Community Health Center, Inc., Dr. Jim Faller, La Mer Motor Inn, Market Development Group, Inc., MediLink Homecare, NICO Properties Group, Olympic Family Restaurant, Pappas Restaurants, Peter J. Pappas, Peter J. Zikos Insurance Company, Regan, Halperin & Long LLP, Sfikas & Karambelas LLP, Stephen G. Yeonas Company, T.G.S. Petroleum, The Hartford and Tom Sarris Orleans House.
"This year's tournament was a tremendous success. We were able to build on last year's inaugural event and we look forward to continue to make this tournament more successful with each year. We thank everyone who helped make this year such a success," said AHI Executive Director Nick Larigakis.
Attached please find find the photographs from the Second Annual AHI Golf Tournament.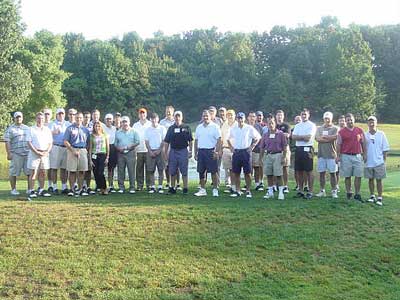 The entire group of participants from the 2nd Annual AHI Golf Tournament at the Penderbrook Golf Club in Fairfax, Virginia.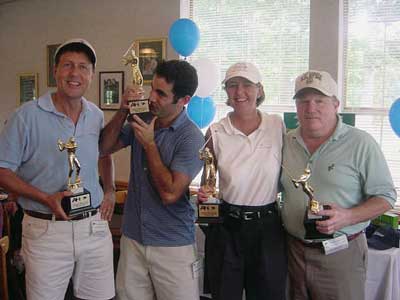 First place winners (l-r) John Garrity, Michael Abbenante, Kay Tyler and Jay Hoffman.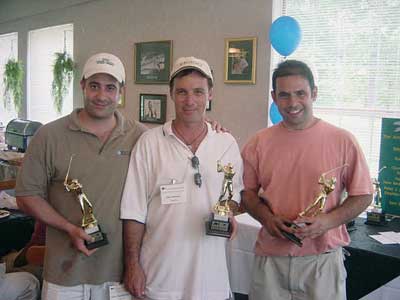 Second place winners (l-r) Mike Papadopoulos, John Johnson and Peter Petropoulos.
###
For additional information, please contact Georgia Economou at (202) 785-8430 or georgia@ahiworld.org. For general information regarding the activities of AHI, please view our Web site at http://www.ahiworld.org.