AHI Hosts a Book Signing with Eleni Gage
WASHINGTON, DC—On June 23, 2005, AHI hosted a book signing for Eleni Gage at the Hellenic House for her new book North of Ithaka: A Journey Home Through A Family's Extraordinary Past.
Eleni Gage gave a unique presentation of her book, North of Ithaka, in that she did not read an excerpt from the book but opted to give a personal account of her experiences while trying to rebuild her ancestral home in the village of Lia.
Ms. Gage began, "Like many hyphenated Greeks born abroad to parents with strong attachments to their native land, I grew up hearing the stories my aunts and father told about the remote mountain village where they were born. I knew the village had changed since they were raised there—it now has electricity, running water, even a paved road running through the middle of it. But I wondered if I could ever live in the village my family came from, instead of just passing through for short visits."
In deciding to embark to on this journey Ms. Gage said, "In 2002, I decided to find out. I quit my job as an InStyle magazine editor in New York, rented out my apartment, and moved to my family's isolated village, Lia, near the Albanian border. My friends and I joked that by moving from a skyscraper to a mountaintop, I was trading 'Sex and the City' for Introspection in Epiros, the poorest region in the European Union."
She continued, "Beyond tracing my roots and fact-checking my aunts' tall tales, I moved to Greece with a specific purpose—to rebuild my family home, which had lain in ruins for decades. My father had once drawn up plans to rebuild it, but could not bring himself to do so because of what had happened there in 1948. His mother, for whom I was named, was kept prisoner and tortured in the house, along with 30 other captives, before being executed by Communist guerrillas during the Greek civil war, events my father recounted in his 1982 book Eleni."
"But I knew from the stories that they had told me while sitting around our kitchen table in Worcester, Massachusetts, that the house they had grown up in had seen joy and laughter as well tragedy and tears. It was where they had jumped on the wrought iron bed my grandfather had imported into the village once he started working in America, and sat on the verandah listening to the shepherds in the mountains sing to their sheep. It was in the hope of reclaiming those memories that I decided to rebuild the house exactly as it was. I felt that someone needed to transform the pile of rocks that I knew from the ruins of a prison into a home again. And I decided that at the very least, I had to try."
In reflecting she said, "I hadn't known what-or whom-I would find when I arrived in Lia, or if the villagers would accept me and approve of my mission. But my 'odyssey' was blessed with a cast of characters that included an architect who didn't believe in the concept of time, a contractor who sacrificed a rooster and buried his head in the foundations of my home for good luck, then had his wife turn the body into stew for a celebration, a widow who read my future in egg whites, an Albanian teenager who let me choose his Greek name for his baptism, a sunglasses-wearing priest who walked miles between the three villagers he served, and Foti, a shepherd turned pizza place owner, turned self-appointed uncle to me. He taught me how to talk to sheepdogs, showed me the waterfalls that stream out of the mountainside after the winter rains, drove me off-road up the mountain to see a 1000-year-old monastery, and, as a housewarming gift when I finished the house, gave me a necklace made out of tusks from a wild boar he and his hunting buddies killed. Foti showed me all the best places in the Mourgana mountains. But on my next trip to Greece, I will have to visit him in the graveyard at Agios Demetrios. With Foti gone, the Lia I lived in no longer exists. But thanks to him and the other Liotes, I will always long for the village, until I too am gone. I dedicated my book to the inhabitants of Lia, past, present and future. I wish I had more to give them, since they gave my ancestral home back to me."
Preceding the presentation, Eleni Gage signed books for those who attended and was also interviewed by George Bistis, Director of Voice of America's Greek service in Washington, D.C.
Attached please find photographs from the event.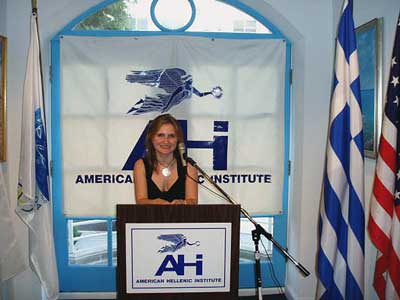 Eleni Gage giving her presentation at the Hellenic House.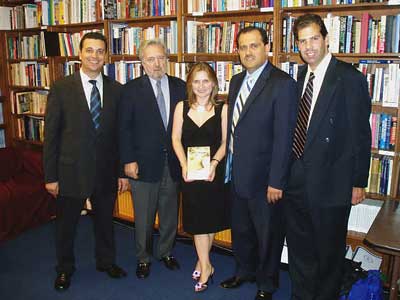 Eleni Gage with her father Nicholas Gage and AHI staff after the presentation.
###
For additional information, please contact C. Franciscos Economides at (202) 785-8430 or at pr@ahiworld.org. For general information regarding the activities of AHI, please view our Web site at http://www.ahiworld.org.