AHI Hosts Business Noon Forum on "Housing and Economic Outlook" with Dr. Andreas Pericli
WASHINGTON, DC—On June 22, 2005, AHI hosted a Business Noon Forum on "Housing and Economic Outlook" at the Hellenic House with Dr. Andreas Pericli, Chairman and CEO of Euclid Financial Group.
Dr. Andreas Pericli gave a presentation on the indicators of buying a house, economic conditions and outlook on housing prices. He expressed how the U.S. economy continues to expand and housing markets will be strong. Dr Pericli stated, "Economic growth strengthens in 2005: as GDP growth should be 3.6 percent during the year. Unemployment slowly declines to 5.1 percent by the 4th quarter. Accommodative fiscal and monetary policy continues." He added, "Tame inflation will keep interest rates low: strong labor productivity growth. Fed funds will likely rise in 0.25 percent increments over several FOMC meetings if economic growth is sustained. In housing activity: Annualized House Prices grew at 11.8 percent annualized rate in the first quarter of 2005. Affordability Index in some local markets has fallen significantly." Dr. Pericli also said there are outlook risks such as "energy: high oil natural gas prices act like a tax on the economy, and deficits: there is strong overseas support of our US Treasury bonds from foreign investors."
After showing various statistics on indicators, Dr. Pericli told buyers to beware of housing investment in certain markets. In housing markets such as California and New York he cautioned risk because home prices have outpaced income in certain states.
To summarize, Dr. Pericli stated, "Economic growth strengthens in 2005: GDP growth should be near 3.6 percent on average for the year. Accommodative fiscal and monetary policy continues. Inflation, interest rates will remain low: 30-year, fixed mortgage rates to end year near 6.2 percent. Unemployment rate slowly declines to 5.1 percent by fourth quarter." He also stated, "Low interest rates, family income growth keep housing brisk in 2005: single-family starts and home sales set new records in 2004, and given the level of long-term rates are expected to be very strong in 2005 as well. Home value appreciation remains strong, 12.5 percent annual growth for first quarter of 2005 slowing to 6-8 percent in 2005-06."
Dr. Pericli is responsible for all final investment and trading decisions, risk management and quantitative analysis at Euclid Financial Group. Prior to joining the Euclid Financial Group, he led the Prepayment Modeling team and the Structuring and Valuation teams as well as worked as Director of Financial Engineering at Freddie Mac for six years. Prior to that, Dr. Pericli was a Senior Research Analyst with Salomon Smith Barney. Dr. Pericli was a student of Professor Harry Markowitz, a Nobel Laureate in Economics and Professor Salih Neftci, a leader in derivatives and financial engineering. He is the author of eighteen journal articles and three book chapters in a variety of areas of finance. His publications include papers in the Journal of Investing, the Managerial Finance Journal, the Journal of Fixed Income, the Journal of Real Estate Finance and Economics, and the Journal of Future Markets. Dr. Pericli holds a Ph.D. in Econometrics and Financial Economics from the City University of New York.
Attached please find a photograph of Dr. Andreas Pericli at the Business Noon Forum.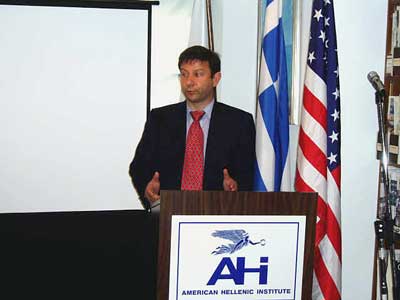 ###
For additional information, please contact C. Franciscos Economides at (202) 785-8430 or at pr@ahiworld.org. For general information regarding the activities of AHI, please view our Web site at http://www.ahiworld.org.