AHI Hosts Briefing on the Hill "Cyprus in the EU: One Year Later—Prospects for Reunification" with Ambassador Evriviades
WASHINGTON, DC—On May 23, 2005, AHI hosted a briefing and luncheon on Capitol Hill for Congressional staffers on the developments of the Cyprus issue. The speaker was Ambassador of Cyprus to the U.S., Euripides L. Evriviades. The discussion was on "Cyprus in the EU: One Year Later—Prospects for Reunification."
In discussing "Cyprus in the EU: One Year Later—Prospects for Reunification," Ambassador Evriviades spoke on: 1) Cyprus and its EU perspective; 2) the prospects for peace in Cyprus in the fundamentally new political context of the EU; 3) a glimpse of the current discussions about Turkey's aspirations to join the EU and how these may relate to Cyprus; 4) some troublesome developments in the bilateral relationship between Cyprus and the US; and 5) a view towards the path forward for Cyprus.
In speaking about Cyprus, the EU and the prospects for peace at home, Ambassador Evriviades said, "In pursuing our goal for reunification over the years, we were forthright and willing to conclude an honorable agreement. We have agreed and we are pursuing the establishment of a functional bicommunal, bizonal federal republic, which means that eighteen percent of the population will be politically equal to eighty percent of the population. I do not know of a single country in the world that has accepted a similar arrangement in pursuing the goal of peace….Significantly, the vote of the Greek Cypriot community was not a vote against reunification but against this specific plan. No one is more committed to securing a bizonal, bicommunal federal solution than the government of Cyprus."
Ambassador Evriviades stated "So, a year after Cyprus joined the EU where does the question of Cyprus stand? We continue to constructively appreciate membership in the EU and the opportunities, challenges and responsibilities it provides us. We are cautiously optimistic that the negotiations of Turkey to join the EU will result in the long overdue normalization or relations between Cyprus and Turkey. We are determined to continue our outreach to Cypriots of Turkish ethnic origin since strengthening their standard of living promotes democracy, reconciliation, security and stability on the island and in the region. We will continue to seek a just resolution of the Cyprus problem. We remain fully committed to the reunification of Cyprus as a bizonal, bicommunal federation. Over the years we have suffered many setbacks in finding a solution to the Cyprus problem. But we have never given up. We will not do so now."
Attached please find the full text of Ambassador Evriviades presentation and a photograph from the briefing.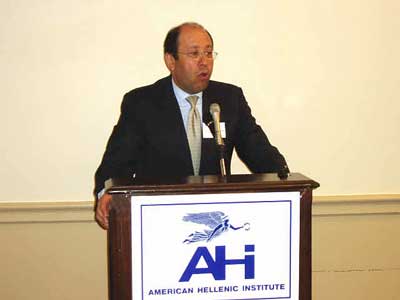 ###
For additional information, please contact C. Franciscos Economides at (202) 785-8430 or at pr@ahiworld.org. For general information regarding the activities of AHI, please view our Web site at http://www.ahiworld.org.