AHI and Pan-Macedonian Association Host Capitol Hill Conference on "FYROM: The Need for Reassessment of U.S. Policy in the Balkans"
WASHINGTON, DC—On April 14, 2005, the American Hellenic Institute in cooperation with the Pan-Macedonian Association, Inc. hosted a Capitol Hill Conference on "FYROM: The Need for Reassessment of U.S. Policy in the Balkans." The Conference was moderated by Dr. Van Coufoudakis, Rector of Intercollege in Cyprus and the panel included, Dr. Nikos Zahariadis, Director of the Department of Government at the University of Alabama at Birmingham, Gregory Copley, President and Editor-in-Chief of "Defense & Foreign Affairs" Magazine, and Nick Larigakis, AHI Executive Director.
Members of Congress who attended the event and addressed the audience include (in order of their appearance): Rep. Ileana Ros-Lehtinen (R-FL), Rep. Chris Van Hollen (D-MD), Rep. Michael Bilirakis (R-FL), Rep. John Conyers (D-MI), Rep. Donald Payne (D-NJ) and Rep. Carolyn Maloney (D-NY).
Dr. Nikos Zahariadis spoke on "Recent Development in the Republic of Macedonia" where he emphasized two main points regarding U.S. intervention in the Former Yugoslav Republic of Macedonia (FYROM). "(1) U.S. intervention in FYROM in the last 15 years has undermined American interests in the region. It pursued short-term interests at the expense of long-term objectives, and (2) the main problem in FYROM is not the name but inter-ethnic relations. In fact, the name may exacerbate them. Resolving the name issue in a way that is contrary to Greek sensitivities undermines domestic and regional stability." Dr. Zahariadis stated, "Recognition of FYROM as Macedonia by the Bush administration has brought a temporary domestic truce but not domestic stability. Moreover, it has fostered regional instability. Recognition not only has not served but also actively undermined U.S. interests in the region."
Gregory Copley discussed "U.S. Policy in the Balkans and the Eastern Mediterranean: Stop Choosing Sides; Start Choosing Strategic Interests." Regarding the recognition by the U.S. government of FYROM as "the Republic of Macedonia," Mr. Copley states, "Both Greece and the former Yugoslav republic can make their respective arguments, although only Greece can claim the lineage which the ancient Macedonian conquest of the Hellenistic city-states created. By conquering the city-states, Philip of Macedonia, and his son, Alexander, assumed the mantle of Hellenism, and conquered and spread culture in its name."
Mr. Copley also said, "the real rationale for the US policy change regarding the Former Yugoslav Republic of Macedonia was the fact that US military and intelligence facilities in Albania were being sabotaged and attacked, and this was threatening the continuity of logistical and other support to US forces in the Serbian province of Kosovo. As a result, the US needed to quickly move its assets out of Albania—a fact which has yet to be acknowledged or explained—and to relocate them in Macedonia. Cooperation by Skopje was fast and effective, and the trade-off regarding the recognition of the name 'Republic of Macedonia' was made, by the US Government on the basis of simple expedience."
Dr. Van Coufoudakis spoke on "Sources of Balkan Instability" in which he addressed general characteristics of American policy in the Balkans from the end of WWII to the end of the Cold War, the post Cold War period and since 9/11. Dr. Coufoudakis said, "The untimely recognition of FYROM as the 'Republic of Macedonia' by our government was a bribe to that republic in order for its government to boycott the referendum on the Ochrid Agreement, and to continue its participation in the so-called 'coalition of the willing' in Iraq." He also commented that, "last November's American action was a slap in the face of Greece, America's most reliable ally in the region since the end of WWII and a country that for the last 10 years has been the pillar of stability in the Balkans. Washington has failed to realize that its action will not resolve any of FYROM's internal or regional problems."
Nick Larigakis spoke on reasons why it is not in the interest of the United States to recognize FYROM under the Greek name of 'Macedonia.' Mr. Larigakis stated, "This sentiment was expressed as recently as March 24, 2005, by Secretary of State Condoleezza Rice, when after meeting with Greek Foreign Minister Petros Molyviatis, she stated that, '…the Balkans, a place in which we believe great progress has been made but, of course, there are many challenges yet to meet.…we have no better friend in these challenges than our friends in Greece.' In reference to Kosovo and Greece's role there, Dr. Rice said, 'We believe that this is an area that is ripe for cooperation between Greece and the United States…'"
Mr. Larigakis continued, "Macedonia is a Greek name in origin. Its use in Ancient Greece as the Kingdom of Macedonia of Phillip II and Alexander the Great, even then denoted a region, not a nationality…Names have a powerful significance. They are used for territorial claims and interference in the internal affairs of one's neighbors. This is particularly so in the Balkans."
Regarding the State Department's decision to recognize FYROM as the 'Republic of Macedonia,' Mr. Larigakis points out that this "was an act of disgraceful proportions as it relates to our staunch ally and supporter in the Balkans Greece. This act is harmful to U.S. interests in the Balkans. We call on President Bush to reconsider this misinformed and ill-advised policy and to tell the State Department to withdraw recognition of FYROM as 'Macedonia' as in the best interest of the United States."
Below are excerpted remarks from several of the Representatives:
Rep. Ileana Ros-Lehtinen (R-FL): "The Hellenic people have been long time strategic, political and economic allies of the United States. A hundred and eighty years ago Greece proclaimed its independence and few nations in the history of the world have done more to contribute to democratic self-government. In defending democracy, Greece has fought along side the United States in four major wars in the 20th century and is currently a crucial critical and faithful ally in the international war against terrorism. Greece is also a strategic partner for the United States in the Balkans and the Eastern Mediterranean area.
Today, you discuss the need for reassessment of U.S. policy in the Balkans, we also have to look at our similarities, our ties and how we got here. And, in that way I am reminded of how historians throughout the world have considered Macedonians like Athenians, Spartans, Cretans as Greeks. The ideals put forth by ancient Greeks have had an enormous influence, as all of us know, on our American founders and our American institutions. In fact, the admiration that our founding fathers had for those very ideals are apparent in our own constitution and in the letters that the founding fathers exchanged with one another in charting the course for American democracy.
James Madison a crafter of this great nation wrote the following, and I know that all of you here would know this:
'Among the confederacies of antiquity, the most considerable was that of the Grecian Republics.'
Who am I to dispute James Madison. But as a proud member of the Hellenic Caucus, and a member of the International Relations Committee and an abut supporter of issues that are key to the Hellenic community. I value the very special relationship that the United States and Greece have. And, working with my colleagues I intend to continue to address the vital issues that you will be talking about today, such as reassessing U.S. policy in the Balkans. It remains a priority for our Chairman Henry Hyde as well as for our ranking member Congressman Tom Lantos of California."
Rep. Michael Bilirakis (R-FL): "…When it was decided FYROM, which most of us were not even happy with FYROM, we wanted to stick to Skopje. When they decided there were going to be continuing bi-lateral discussion between the two countries, without outside interference I might add that we sort of thought that maybe we could put it aside for awhile because it was being worked on. But all of a sudden, of course with what the administration did after the election just irritated all of us. It irritated me and I'm very close to the administration, as you know, and it was very wrong.
But, over the years I always heard 'Hey what the heck is the difference. It's just a name. It's just a word.' Well it is about a name. There is no question about that but it's mostly about 'the purposeful distortion of history and culture.' That's really what it comes down to is the ancient Greek people. It's as one organization called it an 'identity theft.' We talked about that all with computers and that sort of thing. This is an identity theft by the people and by the government of FYROM.
Americans are poor students of history. We don't really pay much attention to history, even our own history. In any case, I think it is important to make Americans understand that the ancient Macedonians were Greek. They spoke Greek. They worshiped the same gods as the southern Greeks and they participated in the Olympic Games which were only open to Greeks. So they were truly Greeks.
As you know, after World War II the Yugoslav communist state of Tito recognized Macedonians as a distinct nationality. They claimed and continue to claim that they are descendents of Alexander the Great. Their ancestors didn't even move to that region until a thousand years after the reign of Alexander the Great. So how in the world can they be descendents of Alexander the Great? The people that live in FYROM today are absolutely not of Hellenic origin. They are of Slavic origin and there is nothing wrong with that.
The two countries have gotten along really well. Greece is now the number one foreign investor. As a Congressman, a few years ago I visited what I kept calling Skopje and met with the President there. He told us that right after he was leaving, we were meeting with a number of very important important financial and government people from Greece because they were discussing trade and things of that nature. So they have been getting along really well. And then our State Department, on November the 4th, decided to stick its nose into the situation when they unfortunately announced the unilateral decision to recognize it as the 'Republic of Macedonia.'
It's a terrible mistake. I wrote the President. I wrote Secretary of State Powell, at the time. At the time, when this took place and I found out about it I was on an airplane flying to Ellada of all places. I'm a delegate from the Congress for NATO. We had our NATO meetings in Venice, Italy and I was meeting the delegation in Venice and we decided to leave three four days early to stop off in Athena.
On the plane, I heard about what our State Department did and I passed that on to all the other members of Congress, Republicans and Democrats, and they were all darn angry about it. Because it happened the way it did. Because it happened when Congress was not in session. They knew darn well that if they did it while Congress was in session, that there would be an uproar by members of Congress. They decided to do it while Congress was in recess and consequently we couldn't really do anything about it efficiently at the time.
Our government is now encouraging the negotiations that were suppose to be going on are ongoing between Greece and FYROM on the name issue. Well, what kind of bargaining position does Greece now have when the United States has already decided the really the name should be Macedonia.
Mr. Nimitz, the UN Secretary General Special Representative responsible for the negotiations, just a few days ago submitted a compromised proposal for both governments on the name issue. It had proposed the name 'Republic of Macedonia Skopje' for official use. Greece has said that the UN proposal could be a basis for constructive negotiations. I understand that in a letter announced today by Prime Minister Karamanlis to the President here basically is an indication that it is satisfactory to the Republic of Greece. If that name is agreed to. Obviously as you know FYROM's Prime Minister Mr. Georgievski declared that they outright reject this proposal. But again that is exactly what we did by recognizing them back in November. There is now no negotiating position.
FYROM Skopje has tried to become a member of the EU and of NATO. I would suggest that they are probably going to have a pretty difficult time until this name issue is straightened out. In all the talks and documents Skopje is still referred to as FYROM and not Macedonia.
I have seen their troops in Northern Greece in NATO meetings and what not where they label this strip across here as Macedonia. Many of them are Orthodox. Most of them are not. They decided a long time ago that they were going to be called 'Macedonia' and you know about the 'Vergina' for their flag and things of that nature.
I'm working with Rob Andrews and we have John (Conyers) here and other members of Congress who will come here who have been very helpful. Rob Andrews is one of the three or four non-Hellenes that are feel very strong, not only on this issue but all issues involving Greece and Cyprus. We are working on an amendment to offer that would require the State Department to send to Congress a report every three months on the status of the negotiations between Greece and FYROM. And on the actions taken by the US government to facilitate the negotiations."
Rep. Carolyn Maloney (D-NY): "I remember how wonderful the trip to Greece was with the delegation lead by Congressman Bilirakis in 1994. I represent a Greek-American community so I was up on the issues but my colleagues were not so I had to teach them that Macedonia is Greek. Wherever I went I had to give this speech that if an archeologist finds an item in Greece and it's in Macedonia it has to have the name Macedonia so people know that historically it belongs to the Greeks. And soon all my colleagues started doing it, and by the end we formed a very strong bi-partisan relationship on the Hellenic issues that continue to this day.
And with my good friend Bilirakis and with Christy who works with him, we founded the Hellenic Caucus and we know so many members, and you should make sure your member of Congress is a member, and since we founded it we have not ever lost a vote in Congress on the Hellenic issues. Because we know who our supporters are and we reach out to them and don't underestimate the influence that you have as an individual. We all listen to our constituents. That is who represents us. When you tell them that this issue is important, that supporting peace and justice is important, that supporting the Olympics and having all the resources to support the Greek government, and didn't they do a fantastic job. I do believe that is why Greece has been rewarded and moved in the UN Security Council in fact in July they will hold the Presidency of the Security Council. That is a tremendous tribute to the leadership of Greece.
Macedonia is Greek and I was offended and outraged when the day after the election a sneak-attack our government recognizes FYROM as 'Macedonia.' Now we had fought many times. We got the white tower off of the FYROM currency. We got them to change the maps. We got them to do a lot of things. We changed the flag. I thought the timing of announcing that the day after the election was a slap to the Greek community, to the Greek-American community, to the Hellenic Caucus and everyone else.
Now we have written letters but we should do something more. I just think that Macedonia is Greek. They have stolen the name. It is absolutely wrong and I did not appreciate the way our government did this and I met with them and they said, 'Well it is up to the United Nations.' Well it is also up to our country how they make their decisions. And I thought to do it the day after the election, you know if you believe in what you are doing do it during the election. Tell the American people what you are doing. Don't wait till the day after the election and do the sneak-attack."
Additionally, Rep. Chris Van Hollen (D-MD), Rep. Donald Payne (D-NJ) and Rep. John Conyers (D-MI) expressed remarks regarding U.S. policy and the Balkans as well as their dismay with the administration's decision to recognize FYROM as 'Macedonia.'
Attached please find the photographs from the Conference.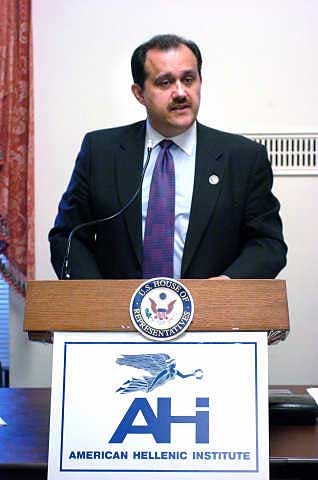 AHI Executive Director Nick Larigakis.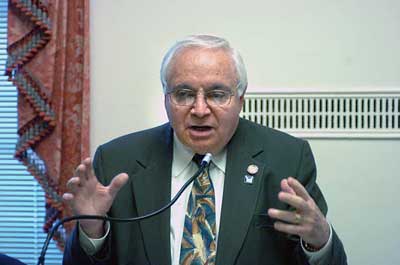 Representative Michael Bilirakis (R-FL).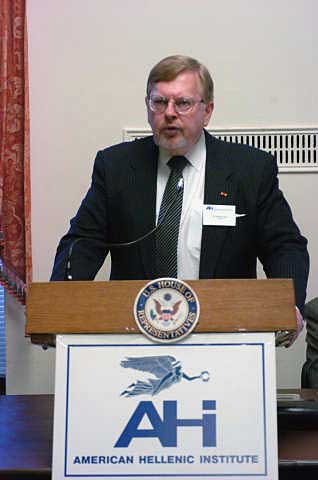 Defense & Foreign Affairs Strategic Policy Magazine President & Editor in Chief Gregory R. Copley.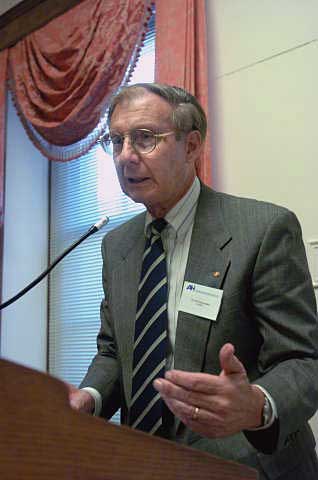 Dr. Van Coufoudakis.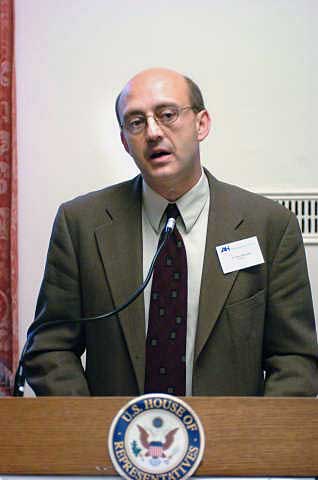 Dr. Nikos Zahariadis—Director of the Department of Government. University of Alabama at Birmingham.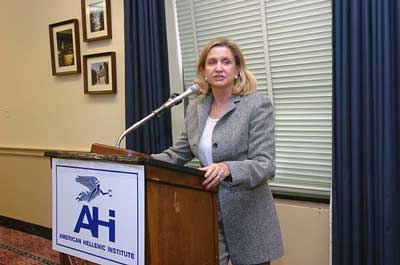 Representative Carolyn Maloney (D-NY).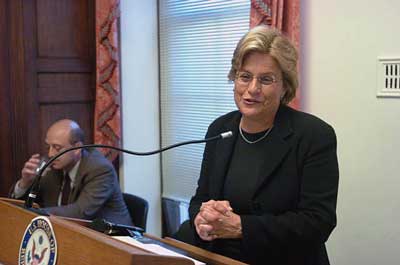 Representative Ileana Ros-Lehtinen (R-FL).
Representative Chris Van Hollen (D-MD).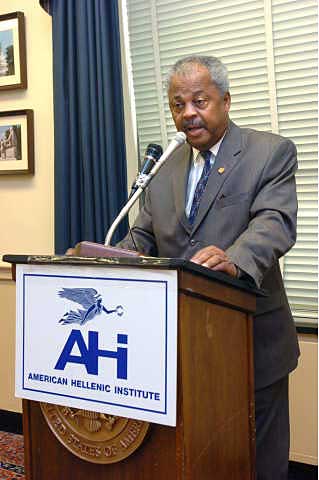 Representative Donald Payne (D-NJ).
Representative John Conyers Jr. (D-MI).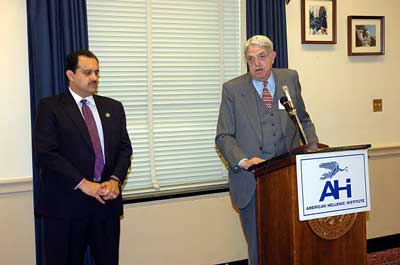 Pan-Macedonian Association Supreme Secretary Panos D. Spiliakos.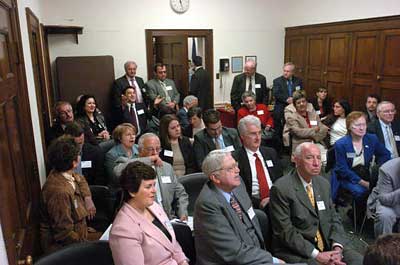 Audience—AHI FYROM Conference on Capitol Hill.
###
For additional information, please contact C. Franciscos Economides at (202) 785-8430 or at pr@ahiworld.org. For general information regarding the activities of AHI, please view our Web site at http://www.ahiworld.org.