AHI Hosts Noon Forum on "Current Challenges for the Greek Economy" with Dr. Plutarchos Sakellaris
WASHINGTON, DC—On April 15, 2005, AHI hosted a Noon Forum at Hellenic House with Dr. Plutarchos Sakellaris, Chairman of the Council of Economic Advisers at the Greek Ministry of Economy and Finance, and Professor in the Department of Economics at the Athens University of Economics and Business. The discussion was on "Current Challenges for the Greek Economy."
In discussing the current challenges facing the Greek economy, Dr. Sakellaris said the Greek economy performed well in 2004 with spending for the Olympics relying heavily on government expenditure. He said growth would slow but remain robust.
Dr. Sakellaris pointed out that the economy is now in "the shift from public funds and expenditures to the right business environment for the private sector to step in and pick-up the slack." He sees this happening through corporate tax cuts, new investment law, and private sector funds to substitute for public funds.
Dr. Sakellaris discussed the structural measures to improve public sector efficiency which include: "the establishment of an independent body of fiscal inspectors; internal auditing services in every Ministry, local authorities, and public entities with a budget exceeding Euro3 million; the establishment of a new framework for the operation of public enterprises and entities aimed at strict implementation of business plans, wage moderation, and control of borrowing requirements, restricted to investment needs; and technical assistance from the IMF on tax administration and expenditure control."
The policy measures aimed at promoting growth include: "gradual reduction of tax burden, especially taxes affecting savings and investment; the priority goal of fiscal policy: stimulate investment in production of higher value added goods and services; new legislation aiming at cutting red tape and reducing time and cost required for business start-ups; investment incentive laws; privatization; increasing investment in infrastructure through public-private partnerships; accelerating liberalization in network industries; and financial market reforms."
In conclusion, Dr. Sakellaris said in reference to making room for private sector-led growth that "fiscal discipline is critical to the success of our private sector led growth strategy, liberalization will stimulate private sector investment and drive growth through this period of fiscal consolidation, and economic liberalization will also encourage the development of a more outward-oriented economy, better able to profit from Eurozone membership and the improving conditions in neighboring countries."
Dr. Plutarchos Sakellaris completed his undergraduate studies at Brandeis University and his doctoral studies at Yale University. He taught for eleven years at the University of Maryland. He has also taught at the University of Ioannina, Central European University, University of Munich and Yale University. He has presented seminars at numerous universities and international conferences.
His previous professional experiences include: Visiting Expert at the European Central Bank (ECB), Staff Economist and Consultant at the Federal Reserve Board, Research Associate at the U.S. Bureau of the Census, and Conference Organizer in association with the ECB, the Center of Economic Policy Research, London and Athens Laboratory of Economic Policy Research. His research addresses issues on monetary policy, productivity and sources of growth, firm investment in physical capital, the industrial sector and education. His papers have been published in books and in international journals, such as: American Economic Review, Journal of Monetary Economics, Review of Economics and Statistics, International Economic Review and Oxford Economic Papers.
Attached please find Dr. Plutarchos Sakellaris's presentation and a photograph from the Noon Forum.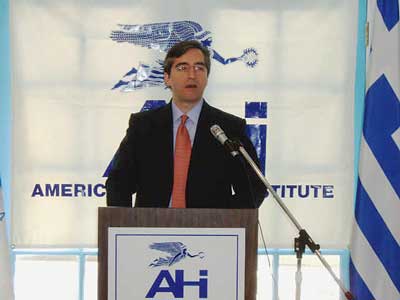 AHI Noon Forum with Dr. Plutarchos Sakellaris on "Current Challenges for the Greek Economy".
###
For additional information, please contact C. Franciscos Economides at (202) 785-8430 or at pr@ahiworld.org. For general information regarding the activities of AHI, please view our Web site at http://www.ahiworld.org.