AHI Hosts Congressional Salute to Greek Independence Day
WASHINGTON, DC—On April 6, 2005, the American Hellenic Institute hosted "A Congressional Salute to Greek Independence Day" at the Rayburn Building on Capitol Hill to celebrate the 184th Anniversary of Greek Independence and the common democratic ideals held by Greece and the United States. The event was held in cooperation with the Congressional Hellenic Caucus's co-sponsors, Representative Michael Bilirakis (R-FL) and Representative Carolyn Maloney (D-NY).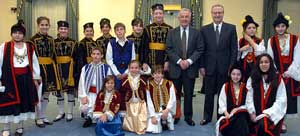 Senator Paul S. Sarbanes and Greek Ambassador George Savvaides with the "Return to Origins" Dance Troupe.
The program began with the singing of the Greek national anthem, performed by the students from the Greek School of St. Katherine Greek Orthodox Church in Falls Church, Virginia, and the American national anthem sung by Maria Pearce of Apollonia Band in Baltimore, Maryland. Additionally, there was a presentation of traditional Greek dances performed by the Return to Origins Greek Folk Dance Troupe under the direction of Rena and Elena Papapostolou.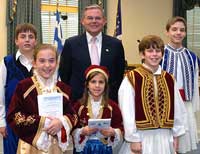 Representative Robert Menendez with the "Return To Origins" dance Greek Folk Dance Group.
AHI Executive Director Nick Larigakis, Master of Ceremonies, welcomed the guests and thanked Rep. Bilirakis and Rep. Maloney for their support in organizing the reception, and for their ongoing efforts in promoting Hellenic American issues in the U.S. Congress.
In his opening remarks, Mr. Larigakis referred to the Proclamation issued by President George W. Bush commemorating Greek Independence Day. Mr. Larigakis quoted a paragraph which states:
"As we address the challenges of the 21st century, the United States and Greece remain committed partners in the vital work of advancing freedom and democracy. Our two Nations are founded on shared ideals of liberty, and we are working together to advance those ideals across the world."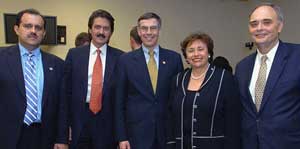 (L-R) AHI Executive Director Nick Larigakis, AHI Advisory Committee Member Kostas Alexakis, Representative Rush Holt (D-NJ), Representative Nita Lowey (D-NY), and Manny Rouvelas.
Mr. Larigakis continued, "We are grateful for these words. Unfortunately, some of these challenges affect us directly as Americans and especially as Americans of Greek descent. I speak of the continuing 31 years of illegal military occupation by Turkish troops in Cyprus, an EU country, the continuing violation of Greece's territorial borders by Turkey, and the continuing persecution of the Ecumenical Patriarchate, the spiritual leader of some 300 million Orthodox Christians throughout the world." Additionally, Mr. Larigakis emphasized the need "to continue to be vigilant in our pursuit to resolve these very important issues, which ultimately, if continue to go unresolved threaten to undermine stability in the Eastern Mediterranean, serve as contradictions to our American values and the rule of law and thus, threaten U.S. interests in the region."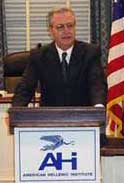 Greek Ambassador George Savvaides.
Greek Ambassador George Savvaides and Cypriot Ambassador Euripides L. Evriviades offered their greetings regarding the impact of Greece's struggle for independence.
Ambassador Evriviades also emphasized the vital importance of a just and democratic resolution for Cyprus. He thanked all members of Congress for giving their support to Cyprus, and he praised AHI for its tireless support and vigilant advocacy on behalf of Cyprus here in Washington, D.C.
In his greetings, Ambassador Savvaides added that the collective efforts of Congress and the American Hellenic Caucus have helped to improve the role of Greece in the Eastern Mediterranean region. Ambassador Savvaides also expressed the pride he felt for the Independence of Greece and how "the struggle of our ancestors was a struggle for freedom and human dignity and the restitution of Greece as a sovereign and independent state."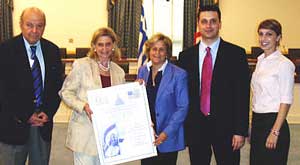 (L-R) Alkis Panagoulias, Representative Carolyn Maloney (D-NY), Representative Ileana Ros-Lehtinen (R-FL), Sotirios Kospanos, and Nikoleta Tzaferos.
Members of Congress attending the reception and addressing the audience included (in order of appearance): Rep. Carolyn Maloney (D-NY), Rep. Ileana Ros-Lehtinen (R-FL), Rep. Robert Menendez (D-NJ), Rep. John Tierney (D-MA) Rep. Rush Holt (D-NJ), Rep. Frank Pallone, Jr. (D-NJ), Rep. Nita Lowey (D-NY), Senator Sarbanes (D-MD), Rep. Steven Rothman (D-NJ) and Rep. Robert Andrews (D-NJ).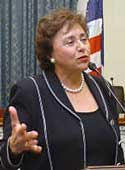 Representative Nita Lowey (D-NY).
Each of the speakers emphasized their admiration for the Hellenic culture and for the valiant and inspiring struggle for Greek Independence, achieved nearly 200 years ago. They also expressed their wish for a settlement of the Cyprus issue.
Below are excerpted remarks from several of the Representatives:
Rep. Robert Menendez (D-NJ): "I appreciate very clearly that Greece has been with the United States in every major conflict that the United States has stood by and had a challenge. It is a historical fact that I think sometimes is lost in the State Department. We are big advocates of Greece's role in Europe and the role it can play in the European Union. We are incredibly happy to see the accession of the free part of Cyprus into the European Union in our aspirations for its peaceful reunification in the future."
"And lastly, I have a resolution which we are actively promoting where we want Turkey to fully recognize the Patriarchate in Istanbul. The reality is that for millions of people across the world, the Patriarchate is the center of their religious views and what Turkey has done to the Patriarchate in not allowing it the international recognition, and taking its properties without just compensation, in not permitting it to operate with its clergy is not acceptable for a country which seeks to be part of the European Union. And as those negotiations go forth at this point we believe the United States should make a strong statement in that regard."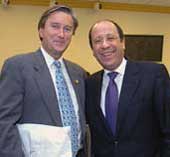 (R-L) Ambassador of Cyprus Evripides Evriviades and Representative John F. Tierney (D-MA).
Rep. John Tierney (D-MA): "I want you to know you have a friend here who regularly makes sure we are in touch with the community and understands all the needs of our friends in the Hellenic community and will continue to do that. And, I appreciate all the hard work that your people here in Washington do, making sure that we are up to date on the information we need to know in order to be able to represent you well. So, thank you.."
Rep. Rush Holt (D-NJ): "It is always, looking at where we have come from that keeps me on track for what we are doing today. And there is no question, that what we have drawn, the wisdom that we have drawn from Greece keeps us going in the right direction today, both in Greece but also in the United States."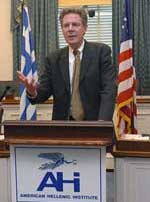 Representative Frank Pallone Jr. (D-NJ).
Rep. Frank Pallone, Jr. (D-NJ): "Last night on the floor I presented an extension of remarks and I talked a little bit about how concerned I was by the remarks that Secretary of State Rice made when she went to Turkey in February. And sort of repeated this mantra about how somehow Cyprus needed to be punished because of the support in a democratic referendum against the Annan Plan. And, I said from the very beginning, not only when I was there, before the referendum took place, but also afterwards when we started to see repercussions coming from the State Department and the administration, that the idea of trying to punish a country for exercising their democratic rights in a referendum or alternatively helping those in the illegally occupied northern section of Cyprus because they did support the Annan Plan. To me is not only not proper, given our support of democracy, but just the wrong way to go about treating an ally in the case of Cyprus and Greek Cypriots."
"I had hoped that in that last 6 months or so that this policy would subside that we wouldn't hear things like that but unfortunately it lingers in the comments that Secretary Rice made. I think we just have to be very vigilant. She talked about assistance that had been provided to the Turkish occupied north. I don't know exactly what that assistance is. And the suggestion that somehow that would be continued and more help would be given to them which is just totally unacceptable. I think we have to be vigilant and continue to say that this is unacceptable, that people have the right to exercise the democratic process, and hopefully we can get beyond that and start to talk again about a way to unite the island and come up with a new plan that maybe would be voted on again in the future that is more, not only more acceptable to the Greek majority but even more so something that will work."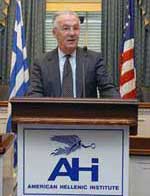 Senator Paul S. Sarbanes.
Senator Sarbanes (D-MD): "We worked very hard to help Cyprus get into the EU. We think it was a very critical step forward for them. Were they not in the EU, they would be outside of everything, so to speak. We still have some problems to solve there obviously, and we remain concerned about that and we are doing our very best to try to press ahead with that. And, who knows, we may get a resolution if we keep working at it, if we work at it very hard, if we do everything we can. We celebrate this day of Independence and it simply reminds us of the close ties that exist between Greece and the United States."
Rep. Steven Rothman (D-NJ): "My friends, the Greek community in America has given so much to our country… Greece has only continued on its road to democracy and strengthening its independence, and is such a valuable and vital ally, strategic partner for the United States of America."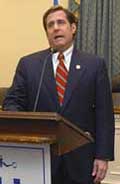 Representative Steven R. Rothman (D-NJ).
Rep. Ileana Ros-Lehtinen (R-FL): "Today, the people of Greece and the United States continue to advance the rule of law and promote human rights throughout Southeast Europe and the world…As one of our strongest allies in the war against terror, Greece and the Republic of Cyprus continue to fight against the latest global threats of terrorism and state sponsored terrorism, nuclear proliferation, illegal narcotics and international crime… As a NATO ally, the Greek government has given the United States both military and financial support for Operation Enduring Freedom, including unrestricted use of its airspace and humanitarian assistance in Afghanistan."
Numerous other Members of Congress who were scheduled to attend this event could not do so due to the passing of Pope John Paul II. The Congress ended early on Wednesday out of respect to Pope John Paul II.
Please find the photographs from AHI's "Congressional Salute to Greek Independence Day" attached.
###
For additional information, please contact C. Franciscos Economides at (202) 785-8430 or at pr@ahiworld.org. For general information regarding the activities of AHI, please view our Web site at http://www.ahiworld.org.