AHI Hosts Briefing for Four Greek Law School Students from the University of Athens
WASHINGTON, DC—On April 1, 2005, AHI hosted a briefing and luncheon for four students from the School of Law of the National and Kapodistrian University of Athens, Greece. The students, Antonis Antonopoulos, Anastasios Gourgourinis, Michail Pattakos and Anastasios Moraitis visited AHI-headquarters, the Hellenic House, where they had the opportunity to be briefed by AHI Executive Director, Nick Larigakis on the agenda of the Institute and on various issues affecting U.S.-Greece relations. In addition, the students had the chance to engage in a discussion regarding the U.S. legal system with AHI Chairman and attorney, James Marketos and AHI member and attorney, Aki Bayz.
From March 25, 2005 to April 2, 2005 these students were in Washington, DC to participate in the Phillip C. Jessup International Moot Court Competition. This event is a world renowned simulated-trial competition, addressed to Law students from all over the world and organized and hosted by the American Society of International Law and the International Law Students' Association. Over 300 teams from more than 80 countries participate each year in this competition, making it the largest of its kind in the world. The objective is to train young law students in the methods and procedures of International Public Law and introduce them to the international institutions and their way of work on a more practical basis. The students were accompanied to Washington by their Advisor, Dr. Maria Gavouneli, Lecturer in International Law at the University of Athens.
"AHI was very pleased to have been able to host these four very talented students. Since they represent the next generation of Greek society, I enjoyed very much our discussion and to hear their views and perspectives on a wide range of issues. I am certain that these four will have a very bright future ahead of them and I wish them all the best in their endeavors," said AHI Executive Director Nick Larigakis.
Please see the photograph attached.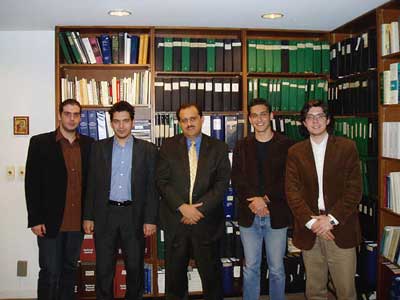 Executive Director Nick Larigakis with the Law Students from the University of Athens. (L-R) Michail Pattakos, Anastasios Gourgourinis, Nick Larigakis, Antonis Antonopoulos, and Anastasios Moraitis.
###
For additional information, please contact C. Franciscos Economides at (202) 785-8430 or at pr@ahiworld.org. For general information regarding the activities of AHI, please view our Web site at http://www.ahiworld.org.